Undersea Explorer in PNG rescue
Undersea Explorer in PNG rescue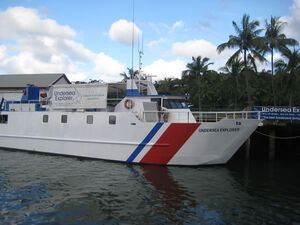 Undersea Explorer, a former research and diving vessel that previously operated out of Port Douglas, has been involved in a dramatic rescue of 39 people in Papua New Guinea.


Australian Reef Pilots floating pilot station in PNG became an emergency platform overnight rescuing the 39 people after their small vessel sank in four metre swells in Milne Bay.


The thirty foot island trading and passenger vessel the MV Tunas sank on Saturday and all 39 on board (3 crew and 36 passengers) managed to swim to Bunora Island where they stayed overnight.

One of the passengers used an HF radio to call the Milne Bay Rescue Coordination Centre who contacted Australian Reef Pilots floating pilot base, the Undersea Explorer on Sunday to ask for assistance.

Both the pilot boat Miralga and the Undersea Explorer made a 35 nautical mile journey late yesterday afternoon to rescue the people stranded on Bunora Island.
Master of the Undersea Explorer, John Gavera, and Australian Reef Pilots Quality Manager on board, Peter Wright, were pleased to find everyone alive.

"Adults and children were suffering from hypothermia and dehydration and 27 were accommodated overnight at the Australian Reef Pilots pilot house were due to be transported to a health centre by local vessel M/V 'Ricjays' for medical checks today," Mr Wright said.

Australian Reef Pilots General Manager, Alan Maffina, praised the team for the successful rescue operation.

"The pilot station is a critical piece of infrastructure to supply safety pilots on high risk vessels entering PNG waters and the Great Barrier Reef. We are very proud of the team for their rescue efforts," Mr Maffina said.

The Undersea Explorer is currently operated by Papua New Guinea Ports Corporation in conjunction with Australian Reef Pilots, and has been in Papua New Guinea since June 2010.

Australian Reef Pilots has been operating in Queensland's shipping channels for more than 125 years and specialises in providing safe and professional guidance for ships moving through Australia's Great Barrier Reef.