Multi-million dollar project complete
Multi-million dollar project complete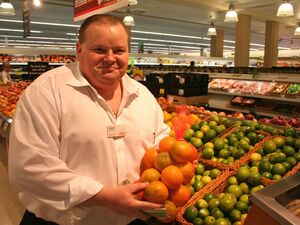 Coles Supermarket manager Jason Smith may have only been in town for eight months, but he's made many friends by overseeing the redevelopment of the Port Douglas store.

The supermarket has had a presence in Port for 11 years, but the multi-million upgrade has already paid dividends with feedback from customers overwhelmingly positive.

"We listened to the customers and asked what they wanted, and out of that we've reintroduced the community noticeboard, added a health food section, increased the size of the fruit and vegetable section. We've tried to give it a real market feel," Mr Smith said.

"The feedback has been great. What I loved was that people were coming in everyday and asking 'what's new?".

The increased range of seafood and the butcher shop have also been winners with customers.

Even the self-scan checkout is catching on. "People are starting to embrace them. We're the first store in North Queensland to get them," Mr Smith said.

Mr Smith said he was looking forward to Coles playing a bigger part in the community over the coming year. He had recently called on a favour to get Curtis Stone, the face of Coles marketing and in his own right a famous chef, to send individual Christmas messages to the Shaw family as they returned home with daughter Evie after her cancer treatment in Brisbane.

The redevelopment has also been good news for local employment figures. "We're just short of 80 team members now and have employed 30 new team members (since the redevelopment). We have a focus on recruiting locally," Mr Smith said.

Philip Dalziel, a regular commentator on The Newsport Daily said "Coles is really showing a commitment to Port Douglas, it's great to see and you can't go in the store without seeing Jason (he must live there). He has really pulled the team together and is a credit to the industry, just love their seafood and no, I have no connection with Coles."

Editor's Comments: I don't know about you but I love it when household name organisations like our friends at Coles show such confidence in Port Douglas as to spend huge amounts of money to ensure they provide the best facilities to both visitors and locals.