Muddies score first win in A Grade
Muddies score first win in A Grade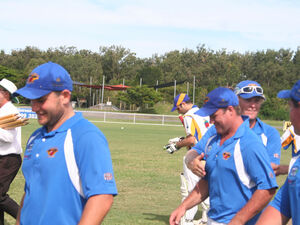 The Muddies played their second double-header of the 20/20 A Grade competition this season at Griffiths Park in Cairns on Saturday.

Game One went according to plan when Barron Rover won the toss and elected to bat while Muddies' stand in skipper Keith Taylor was keen to take to the field.

Taylor's bowlers delivered from the first over as Vikionkopi struck with his fourth ball thanks to a beautiful catch down leg side by wicket keeper Jack Goodall.

The bowlers maintained a tight grip on the game with the standout performance coming from Darryl Mison who took 3 for 17 in 4 overs, just failing to get a hat trick when cleaning up the middle order.

Vikionkorpi (4 overs 2 for 9) and Kane Ubergang (4 overs 1 for 10) strangled the Barron River batters early, ably assisted by Joyce (4 overs 2 for 14) and Carling (2 overs 0 for 8) who kept a tight line allowing Taylor (1 for 3 off just 4 balls) to finish Barron River's innings on just 63 runs.

By the eighth over the Muddies' openers, Ubergang and Joyce, were almost half way to the total when Ubergang mistimed his shot and was caught.

Josh McConnell came to the wicket looking determined and pushed the score along even after Joyce had pulled a hamstring and been caught.

The Muddies had a middle order wobble with Migliorenza and Goodall going cheaply. Sammy Evans joined in the fun with a quick fire 10, and after McConnell had been caught, helped to reach the total with the skipper Keith Taylor achieving the season's first win in the 20/20 style of cricket.

Congratulations go to Darryl Mison who was awarded the umpires man of the match.

Heading into Game Two and confidence was high, but the venue changed to Griffiths 2 where the Muddies have always struggled to win, gaining notoriety as a bogey ground for the club.

The Muddies batted first and all looked comfortable after amassing a reasonable total of 6 for 108 after their 20 overs were completed. Top scorers were Vikinkorpi (22), Ubergang (22) and Darryl Mison (23 not out) with Sammy Evans chipping in with 12 and Jack Goodall not out at the end on 13.

However arch rivals United set about the task from the opening over and kept their momentum going throughout the innings despite losing March in just the third over.

Freebody played the innings of the match ably supported by Davis (19) scoring 40 before Steve Doble caught him off Darryl Mison.

But the damage had been done and United cruised home in the 16th over at 5 for 113.
Score Card

Next Saturday sees the fifth and sixth rounds of the A Grade 20/20 competition in Cairns, and then on Sunday the Muddies B Grade team is back at home in one day action at the Port Dougals Sports Complexe from 10am.