Light winds hamper Summer Series
Wednesday 12 January 2011
Light winds hamper Summer Series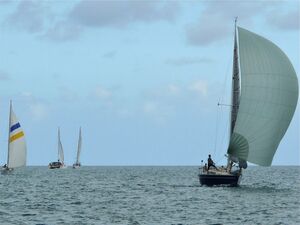 by Mick Gwilliams
Rear Commodore - Port Douglas Yacht Club


The 2011 Poseidon Sailaway Club Championship is underway attracting nine boats to the start for Race 1 of the Summer Series.

In light air the fleet converged on the start line and Magic narrowly escaped disaster crossing several bows to steal the pole windward position.

The yachts powered up and Magic and 2010 Spring Series Champion Ann Sea began to break from the fleet rounding the windward mark ahead of Whitecap, Ice and Mais Oui.

Surrounding storms began to influence the wind about one hour into the race and the breeze dropped out completely leaving most of the fleet caught motionless.

The light air shifted between all points of the compass as Magic limped across the line in 1:25:25 leaving the stranded fleet to try every trick in the book to maintain boat speed.

Ann Sea crossed second 42 minutes later. Skilful sailing from Club boat Mais Oui allowed her to pull away from the pack and as the breeze kicked in again.

Defending Summer Series Champion Karagun, Ice, Whitecap and Tau Ceti all watched in disbelief as the catamaran Indigo began to take advantage of the lifting breeze to passing some of the struggling monohulls.

The boats converged on the top mark but the shifting wind again took its toll as most became caught in irons attempting the rounding.

Eventually Indigo and Tau Ceti fell just minutes short of the allotted three hour completion, and with Kai Lani pulling out only six boats recorded a finish.

Final placing on corrected time were Magic 1st, Ann Sea 2nd only 38 seconds from Mais Oui 3rd followed by Karagun, Ice and Whitecap.

The Poseidon Sailaway Club Championship Summer Series continues on 22 January.