Healthy By Nature
WELCOME to our weekly healthy living feature entitled 'Healthy by Nature'. Each week our team of local expert therapists and practitioners will present useful tips and advice on a wide range of health, fitness and nutrition.
Living in the tropics can work as easily for you as it does against you. To combat the heat and humidity, your lifestyle doesn't have to be lazy days and too many beers at the pub. Keeping active, healthy eating and quenching your non alcoholic thirst is just as easy to enjoy.
It's simply a little harder to make the decision to start!
This is where The Newsport Daily team can help. Our aim is to host contributions from fully qualified personal trainers, masseuses, nutritionalists, alternative therapists, spa treatment experts and mental health therapists.
The whole 'Healthy by Nature' team are locals, so if you need face to face help, they are easily accessible by appointment.
You may not know it yet, but we are confident that you will enjoy this series and we look forward to hearing your comments as we travel together on our tropical journey to wellbeing!


By Margot Gordon

In 1992 Kensington Palace approached me to treat Princess Diana to one of my Shinto Shiatsu massage therapy sessions. At a secret address outside of London we began a series of sessions that went on for 3 years. Diana was going through a very stressful period of her life. Her divorce was looming and the Royal family had appointed her a bodyguard who shared her life and the life of her young sons. Her phone was tapped and she had zero privacy. It was literally driving her crazy. Around the same time she had become a gym junkie. The gym was where she felt free and the endorphin release of long and taxing work outs gave her a high that didn't exist in her daily life.

At the time I had begun working on the impact that emotions have on our health. After years of remedial massage training , aromatherapy and reflexology, I had begun training with an esteemed Japanese teacher of Japanese massage (shiatsu) and acupuncture who had learned through his practice over many years that the greatest harm we can do to ourselves is to block our feelings.
I had come from a background of therapy where the words 'emotional release' implied banging a pillow to get one's feelings out. What I was beginning to understand was that learning to allow feelings did not mean that the feelings necessarily had to be expressed.

Working with Diana I saw that in spite of her workouts and exemplary diet her health was being badly affected by her emotional turmoil. Her muscles were weak and without tone which surprised me as in the gym she looked as fit as a flea.
With Shinto Shiatsu sessions I was helped her process her emotions through her body in a quiet and meditative way so that her awareness increased as to how she might hold her emotional responses in an unhealthy way thereby impacting negatively on her well being.


Keeping fit with the kid's around!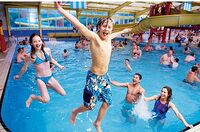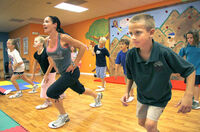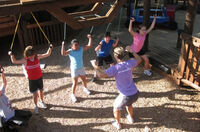 By Sarah McConnell, Inspire Fitness

Stay fit these school holidays, and don't let your kids be your excuse to not exercise. An active lifestyle means a healthier, happier family. Here are some simple ways to stay active and stop those Christmas kilos from sneaking up on you!

1. Be active together.
Fly a kite
Dance to favourite music
Ride bikes along beach or footpaths
Play a family game of tennis or table tennis
Swim and splash about at the local pool
Walk the dog
Throw a Frisbee
Rollerskate, rollerblade or skateboard
Play a game of back yard cricket or football
Explore new places around your town; try a beach you have not been to, a different park or sporting facility or even a walking trail

All these great activities make exercise fun and enjoyable rather than a necessary chore. You are also setting a good example to your children and helping them to enjoy an active life.


2) Make the most of our natural playground 'Four Mile Beach'

Take the kids to the beach as much as possible. There are plenty of fun activities to do at the beach. Try building a huge sandcastle or organizing a scavenger hunt. All kids love the beach and both parents and kids can enjoy this free local activity together. Go early in the morning and have breakfast on the beach or at sunset and escape the heat of the day.


3) Reduce inactive leisure time. Limit television viewing, cut down on video games and reduce time surfing the net. Try to limit these activities to 2 hours or less per day.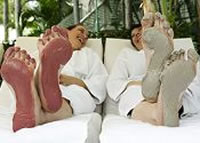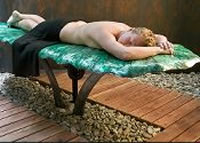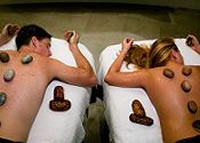 By Carol Fleming, Exclusive Spas, Port Douglas
The multi award winning Spa at Peppers Beach Club, Port Douglas offers world recognised spa rituals which captivate tranquillity & an intimate feeling that borders on the spiritual. The spa has been designed with both singles & couples in mind offering dual wet & dry facilities. The 5 ambient rooms ooze an earthy, harmonious charm. Fusing ancient therapies with the tropical rainforest & reef culture of the far north the Spa will soothe your body & soul.
Famous for their Vichy therapies - this innovative fusion is evident with the installation of two hand forged steel wet tables by a local company - Elefantus which is a world first in the spa industry. Never has this medium been used to achieve the ultimate wet table for tropical climes.
The unique design incorporates two giant Elephant Ear leaves (Alocasia Macrorrhiza) found in the far northern tropics of Australia. The leaves are made from 3mm steel plate that has been hand formed to achieve the texture & shape of the real thing. The 'leaves' are impervious to the effects of water with an iridescent green finish. The two giant leaves that form the table have been cleverly fused at the stems to create a seamless base on which the table top is cantilevered.
After the initial visual 'wow factor' clients report that the tables are amazingly comfortable having contours to ensure the water escapes quickly and allows the body to mould itself softly into those depressions. With the specially designed mattress & spa wraps you feel as though you are floating effortlessly on a soft velvety wave. Why not immerse your senses in the pure vibrancy of -delete amazing spa rituals & journeys using the uniquely Australian indigenous inspired spa care range of LI'TYA.
"Let us smudge you to another place & time" .