Comedy comes to the Courty
Wednesday 19 January 2011
Comedy comes to the Courty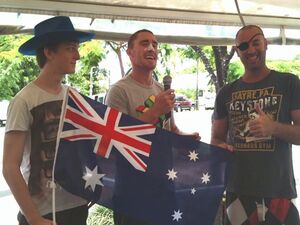 Australia Day at the Court House Hotel is always a fun-filled affair. And now, thanks to local comic talent Evan 'Buddah' Hocking, the popular beer garden will be the stage for some of Port's funniest up-and-coming comedians.

From 2pm on Australia Day a handful of locals will try their luck and their lines on what Buddah hopes will be a supportive audience.

"I'd expect them to get a lot of support, especially for people who are doing it for the first time. You want people to get behind comics who are giving it a go," Buddah said.

One such stand-up virgin is Darren Wall who is brutally honest about his motivation for taking to the stage.

"I've seen how well Buddah goes with the girls after a show. I've seen the girls hanging off him so I'd like a piece of the action," he said.

At present, four people have put up their hand to entertain Australia Day patrons, but the call is out for others to have a go.

Any budding Arj Barker's or Joan Rivers' can call Buddah on 0419 540 470.