Ashes battle takes to the skies
Ashes battle takes to the skies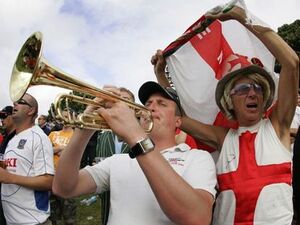 Whether you're a cricket tragic or couldn't care less, the importance of the battle for the Ashes has taken on a whole new dimension.


Prior to the commencement of the fifth and final Ashes test in Sydney, Qantas, Australia's national carrier and British Airways embarked on a promotional campaign which offered discounts on airfares that depended solely on the highest number of runs scored by each team in an innings.


And following the recent trend of English dominance, it was British Airways who came away with the biggest discount on their Sydney to London airfares with a $644 reduction (one dollar for each run the English team scored), while Qantas will manage a meagre $281 discount thanks to Australia's second innings total.

The British Airways tickets are for travel between 1 February to 31 March and 1 May to 31 May 2011, while those maintaining loyalty to the Aussies can fly with Qantas from 1 February to 31 March, 2011.