Raiders First Home Game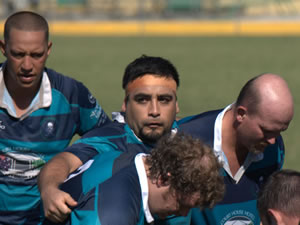 By Esrom Lafituanai
The Port Douglas Raiders hosted their first home game of the season against last years Premiers Barron Trinity Bulls in an intensive confrontation, but were unable to gain consistent momentum and slumped to their second consecutive loss 34-10.
With only two reserves to call upon for the fixture, the Raiders stunned their rivals by scoring first through rampaging Centre Curtis Pollard. The Bulls, believing they were in for a walk over, regathered their composure to score three tries and take the lead at the break by 17-5.
Though Port Douglas defended strongly through the middle, Barron Trinity had to use their speed out wide to counter and put on a further three tries. The Raiders did however add to the score sheet in the second spell with Omar Quintana finishing off a forward movement to conclude the match 34-10.
Again it was Port Douglas's unforced error rate that gave the Bulls the opportunities to post a demanding score line, however it was not a true indication of the Raiders more committed performance.
The after match function at Rattle 'n Hum, Wing Ed Hood earned Man of the Match, with Todd Funch and Clint Kachel awarded two and one points respectively in only their second Rugby Union match.
The Raiders will return to Cairns for a Friday night outing against a physical Southside Crusaders unit, and their next home match scheduled for Saturday 17 April.