Qantas market share slides again
Qantas market share slides again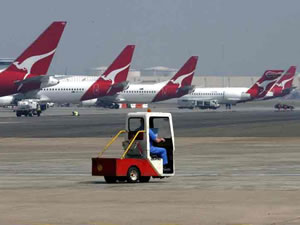 By Roy Weavers
Following our report last week, Qantas Airways' share of international air traffic continues to decline, with the carrier losing 3.7 percentage points between December 2008 and 2009.
Qantas's share of international air travel has now fallen to 18.7% for the month of December, but still remains the largest supplier of air travel, according to the latest government statistics. Singapore Airlines had the second largest share, with 10.2%, despite also falling 2.1 percentage points.
Low cost carrier Jetstar increased its share, by 1.5 percentage points. In fact, overall, low cost carriers including Jetstar, Air Asia X, Indonesia Air Asia, Pacific Blue, Polynesian Blue and Tiger increased their market share of international travel by 3.6 percentage points. Transport analyst Matt Crowe said Qantas's loss was not surprising, given their expansion of the Jetstar brand.
"A large part of that loss would have been to Jetstar, but there have also been some other low cost carriers that have been aggressive in the market. The lower cost segment of the market is the fastest growing segment and it will continue to take market share from Qantas."
Overall international passenger traffic for 2009 was up 3.9 percentage points, despite the global financial crisis, reaching 24.387 million passengers.