The Mayor gets Ukulele Festival
The Mayor gets Ukulele Festival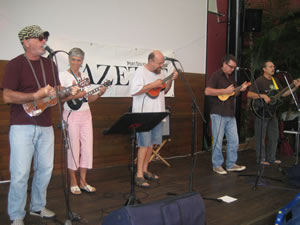 The melodic sound of ukuleles carried on tropical breezes will be part of the revelry for music lovers in this year's Cairns festival season.

Cairns Regional Council has given funds to the organisers of the Cairns Ukulele Festival under a grant from Council's Economic Development Fund.
Mayor Val Schier said the festival would attract national and international visitors to Cairns, giving a boost to the local tourism economy.

"The Ukulele Festival will be held in July and will include activities and performances in the weeks leading to the event," Cr Schier said. "Cairns' population encompasses people with cultural backgrounds from the Pacific, where the ukulele is an integral part of their traditional music," she said.
"Worldwide data shows the ukulele music has had resurgence around the globe and Cairns will be one of the centres for its celebration."

Council has granted more than $10,000 ($10,228) in in-kind assistance of venue hire for the Ukulele Festival with a cash grant of $16,698 to support lighting and performer costs.

The decision on the fund application from organisers of a Tropical Roots and Rhythm Festival was deferred to a future Council meeting. (Ed Note: Come on, val, we all love a bit of Reggae ! On a serious note, good on you Val, it's good to see someone is forging ahead with innovative ideas to attract the tourists)