Protecting environment worth trillions
Protecting environment worth trillions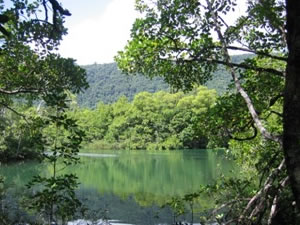 Protecting natural ecosystems and biodiversity is worth trillions of dollars in annual economic benefits around the planet, so says a report released late last year by the United Nations.

The report entitled 'The Economics of Ecosystems and Biodiversity'clearly and concisely states that money invested in protecting the planet's forests and natural systems is the best long-term solution for both the economy and the environment.

"We are running down our natural capital stock without understanding the value of what we are losing," says the report, released by the UN Environment Program. "The degradation of soils, air, water and biological resources can negatively impact on public health, food security, consumer choice and business opportunities."

One of the main authors of the report, Pavan Sukhdev, said protecting forests can be more efficient and accessible than exploring new technologies to capture greenhouse gas emissions and bury them underground.

"The technology of planting trees or replanting forests is thankfully free, and it has no side-effects," said Sukhdev, who also leads the UN Environment Program's Green Economy Initiative. "It's powerful, it's effective and it's time tested. We just have to get people's mindsets changed to start using these natural technologies that are available."

Overall, Sukhdev said annual benefits of protecting areas in land are worth up to $5 trillion per year, while protected fishing areas are essential to preserving fishing stocks and even improving profits and revenues for the industry. He added that investments to protect ecosystems can be worth 25 to 100 times more in benefits from the natural services they provide.

The report also said that some cities, such as Rio de Janeiro, Johannesburg, Tokyo, Melbourne, New York and Jakarta, also rely on protected areas for drinking water, saving costs on public treatment plants.

An analysis of Lake St. Clair, near Windsor, Ontario, also revealed benefits of more than $10,000 per hectare of protected areas on its eastern shore.

"It's pretty clear that the benefit to society from keeping those marshes intact is greater than the private earnings from clearing or draining them," said Aaron Bruner, another author of the UN report.

Editors Comments: In the Daintree Rainforest and The Great barrier Reef we already have two of the most precious areas in our own backyard, so I hope after the Copenhagen debacle someone sees this report and starts realising that this is the way forward We have to push aside the scare tactics being employed that being environmentally conscious is going to be massively expensive, it would seem it could also be a 'nice little earner'.