Port gears up for Australia Day
Port gears up for Australia Day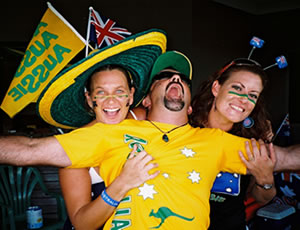 This year looks like being one of the busiest and best Australia Day's in recent memory. After having had to endure the effects of the global financial crisis throughout 2009 it seems that Port Douglas and the surrounding region has had just about enough depression and is setting itself up for a cracker of a party on Australia Day.

All through the day the traditional activities will be taking place at The Central Hotel with live entertainment but the Court House Hotel is adding a twist this year by having DJs ALL day to keep the party rocking. Down at the Port Douglas Yacht Club the 48th Annual Australia Day Boat Race to Low Isles will be starting at 8am. At midday the celebrations start at The Yacht Club from midday and run right through until midnight. Just come dressed in your best Aussie clobber and for a $10 cover charge you can dance the night away to DJ Soljah and Dyls.
For the families the great Family Picnic day is being held at the Port Douglas Sports Ground commencing with the opening ceremony at 9am. Registrations for races and games is from 9am to 9.30am so if you want to take part in a whole raft of activities you'd best get down there early. There are competitions for BMX and Skate ramp, Gumboot throwing, kids games and races, Treasure Hunt, Damper and Lamington cooking comp, Best rendition of 'Waltzing Matilda' and a Bike Race down the Bump track. Naturally there will be a best dressed prize for those who come in their best Aussie clobber.

The winner of the Newsport Subscription Draw will also be made at 10am on Australia day in the Court House and the lucky winner will be advised by email immediately so if they are around town they can come and pick up their $1,200 worth of beach goodies including the fantastic customised Windswell Kite board and the $100 Tshinta swimwear voucher.

All through this week we'll keep you informed as more events get confirmed, it's going to be a busy day but remember if you're going to drink and let's face who isn't, then drink responsibly, we want this Australia Day to be one to remember for all the right reasons. see you there !