New Port Douglas Cruise Schedule confirmed
New Port Douglas Cruise Schedule confirmed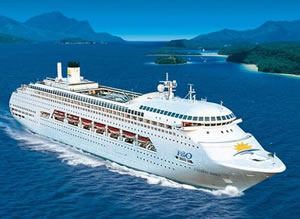 Port Douglas welcomes the first of a busy year for Cruise ship arrivals to the Meridien Marina Mirage when P&O's Pacific Dawn cruises up the coast for an 8am rendezvous on Jan 27. She has a capacity of 2020 passengers many of whom will have booked tours to visit the Great Barrier Reef and the Daintree Rainforest. The boat leaves at 6pm that evening so the last passengers will tender back to their cruise liner by 4pm.
With the unreliable weather of February, the cruise ships stay more southerly but not for long this year since, we get two liners in quick succession when the 1950 passenger capacity, Dawn Princess comes in to Port on March 13 with the Pacific Princess following close behind on March 18 to Cairns with transfer coaches up the Capt Cook Highway scheduled for those who have booked Port Douglas tours.
After Easter the Pacific Dawn returns to us on April 21st with the Sun Princess carrying her 2,000 passengers scheduled for May 2nd.
And slap bang in the middle of The Carnivale, the Pacific Jewel brings her 1950 passengers to experience Port Douglas on May 24. From then on the Pacific Dawn uses Port Douglas like a monthly 'cab rank' coming in every month through to September.
This schedule of visits is everything scheduled to date but if we hear of any more or of any changes, we'll post details on the website immediately.