Muddies maul Mareeba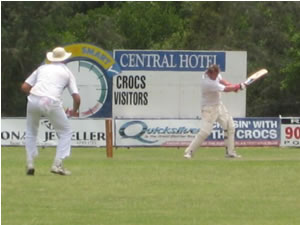 The day didn't start exactly as planned, when Captain Josh McConnell lost the toss and the Court House Hotel Port Douglas B Grade Mudcrabs were put into bat. The weather was uncomfortably hot, ovecast and humid, perfect conditions for the quality Mareeba bowling attack to swing and cut the ball off the seam. And that's exactly what they did taking the Muddies to 6 for 28 off just the first 15 overs.
It wasn't until Daniel Harris and Darryl Mison got together that the fall of wickets was stemmed when they put on 35 before harris was run out for 23 runs. Stevie Lyons then joined Mison and the character of the game changed completely.
Lyons smashed a quick fire big hitting 56 off just 29 balls and when he lost Mison at 8 for 96 he was joined by Tony 'Goodo' Gooding who kept the momentum going with a return to his trade mark six hitting getting 32 off just 39 balls to complement Lyons onslaught of the Mareeba bowling attack.
Between them they took the score to an acceptable 163 before Lyons ran out of steam getting caught at the long-off boundary, quickly followed by Gooding with the Muddies finishing on what looked, at the start of the day, an unlikely total of 168 for Mareeba to chase.
Muddies 'Gun' pace man Dale Arnell struck in his opening over having the opener caught in the backward point by the juggling skills of 'Dazzler' Mison which put Mareeba firmly on the back foot. Dale Arnells spell of 10 overs 1 for 6 runs and Steve Lyons 8 overs 0 for 11 runs made life very hard for Mareeba to start a chase with any conviction but to their credit Mareeba never stopped working and patiently and carefully they began to show signs of clawing their way back into the game.
Matty Schiesser came on first change and immediately broke the deadlock by having the other opener caught behind down leg-side and in his next over bowled their number four batsman with his fourth ball of the over which was possibly one of the best balls of the season. His line wasn't quite as tight as it usually is but that worked to his advantage as the Mareeba batters tried to get after him. he finished with 3 for 42 off his completed 10 overs.
Darryl Mison took over from Matty schiesser and again kept the pressure on the Mareeba tail picking up three vital wickets (3 for 11 of 3 overs) which included a candidate for catch of the season by captain Josh McConnell at backward point.
Despite a spirited attack from Mareeba's Brett 'Big Man' Brewer who scored a fearless 51 wagging the tail, Daniel Harris quickly proved too good for him when he went for another big hit and was caught by Gooding at long-on in Harris' second over (2 over 2 for 13 runs) to give the Muddies a well earned win by 44 runs.
Score Card
Next weeks game for the B Grade Muddies team is at home again on Sunday 24 January for the last one day game of the season. Game starts at 10am.

Go Muddies