More family Fun for Australia Day
More family Fun for Australia Day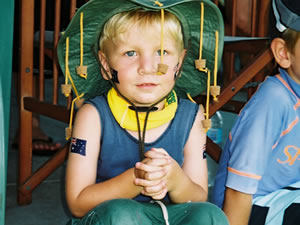 Each day we are being advised of more and more entertainment being organised for Australia Day 2010 on January 26th. It's all so exciting...starting at 11.30am at George Davis Park in Mossman you'll find a 'Family Picnic in the Park' fun day in full swing through until 3.30pm in the afternoon. The itinerary starts with the traditional owners recognition ceremony with language songs from an indigenous choir and the raising of the flag.

12.30pm bootscooters entertain, 1.00pm Sing Australia Choir Aussie songs, 1.30pm the Inaugural 'Australia Day Land Cup'including 3 legged races, potato sack races, egg & spoon races, broom throwing and 'Coo-Eee" competition.

2.30pm Julia Leu will cut the Australia Day cake. The presentation of the 'Christmas Light' trophies sponsored by Coral Reef Coaches, Westpac Bank in Port Douglas. Mr and Mrs Australia will be presented. And there is a whole mass of rides and activities to enjoy including the little Squirt Fire Engine, horse riding and jumping castle plus face painting and tattoos and food and drink to tuck into such as ice-cream, lamingtons, frozen cups, icy poles and soft drinks.

Last Saturday the Newsport team were seen at the Court House in Port Douglas collecting names and email addresses from their clientele and visitors for the Newsport Subscription competition to stand a chance to win $1,200 worth of beach goodies including a one-off customised Windswell kite board worth $850.00 plus $250 worth of lessons and a voucher from Tshinta for up to $100 worth of Seafolly swimwear.
This Sunday the team will be stationed at the Court House again for the last chance for Port Douglas residents and visitors to enter the competition before it is drawn on Australia Day at 10am at the Court House after which the winner will be advised by email on the Australia Day Newsport NEWSMAIL out. Come along on Sunday and get in an early Australia Day practice run with us at the Courty.

More Australia Day events tomorrow