Lay down economy seats for long haul flights
Lay down economy seats for long haul flights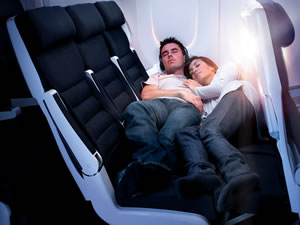 The dreams of long haul travellers may be becoming true at last. AIR New Zealand is introducing economy seats on long-haul flights where passengers can actually lay down and sleep their flight away.
Air NZ chief executive Rob Fyfe reports that the new seating arrangement will be included on the airline's new Boeing 777-300 aircraft. The seats, apparently, can fold flat all the way to the seat-back in front.
Once the Skycouch is locked into place there is no gap between the seat base with the seat resulting in a narrow bed, which the airline insists has room for two adults.

The airline says that for two adults travelling together, the Skycouch will be based on purchasing two seats at standard prices with the third seat at approximately half price. Full details of the airfares will be announced when ticket sales start in late April.

Editors Comments: What a great innovation, this will help many long haul travellers who find the length of flights daunting. Now they can just get on the plane, get tucked in and wake up when they arrive....marvellous!